Time to make you salivate boys and girls!
So today, I'm gonna introduce one of my all time favourite restaurants-
Rakuzen
. It's actually the parent company of Sushi Zanmai, Pasta Zanmai and Sushi Zen. And as you all know, I'm a big lover of Japanese food, especially sushi! So, Sushi Zanmai is one of most frequented places.
Rakuzen is a slightly pricier compared to Sushi Zanmai but for the quality and amount of food you get, it's well worth it. As far as I know, there are two Rakuzen branches. One in Plaza Damas, Sri Hartamas and another in Chulan Square, KL. And I tell you, Rakuzen is one of the best Japanese restaurants around, hands down!
Lets start by introducing my all time favourite dish in Rakuzen which you
MUST
try if you ever go...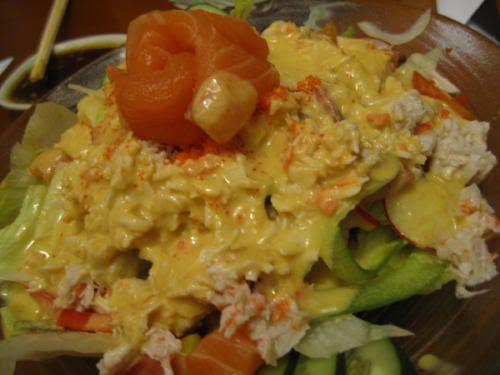 Sushiya salad with Rakuzen dressing.
Orgasmic I swear. If you've had the Sashimi salad with Sushi Zanmai dressing, the Sushiya salad is something like that but just 10 times better. And that's saying something since the Sashimi salad already rocks socks!
The tantalizing pieces of thickly cut salmon coupled with the generous amount of crabmeat and slices of tuna is aboslutely yummylicious. And when paired with the Rakuzen sauce, it's like magic!
Okay, I'm making myself hungry now. =.=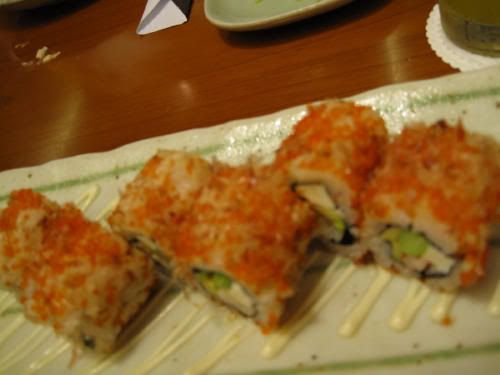 I'm so sorry but I had a momentary lapse of sanity and FORGOT TO PUT MY MACRO MODE ON which explains the blurry picture. I think I was too hungry to care and wanted to dig in as soon as possible. >.<
Anyway, this was on their special menu for August. It's their Summer Roll and boyyyyy, I wish they'd make that a permanent thing on the menu! It was so awesomely good.
If I remember correctly, it had cheese, avocado and crabmeat.
The cheese really gave it that extra oomph!



Coral Roll- Salmon and Avocado.
I think the combination of salmon and avocado is the best ever, I don't think I can ever tire of it.
When I hop over to Aussie, I'll probably stuff myself silly with so much sushi sticks you won't be able to recognize me when I get back. =/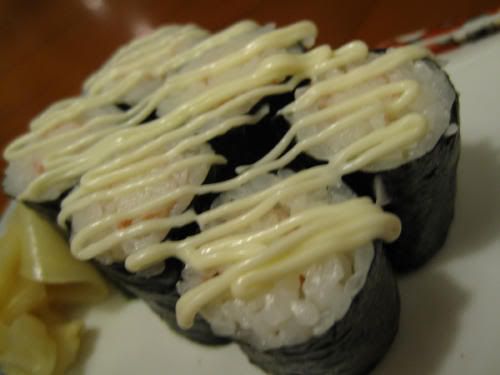 This one's called
Kanimayo Maki
if I'm not mistaken.
It's just crabmeat rolls with a drizzle of Japanese mayo but oh, the simplest things are the nicest sometimes.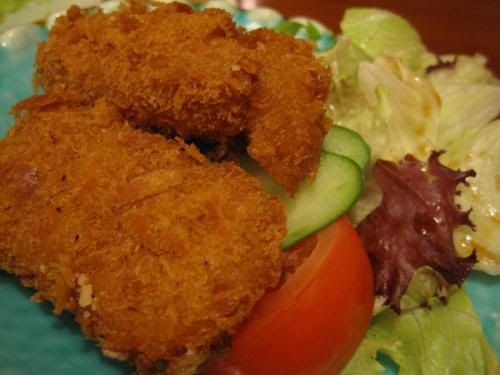 I totally do not remember what this dish was called but it's cream and corn patties which was superbly yummylicious!
All the that creamy goodness oozing out when you poke it apart.... Mmm.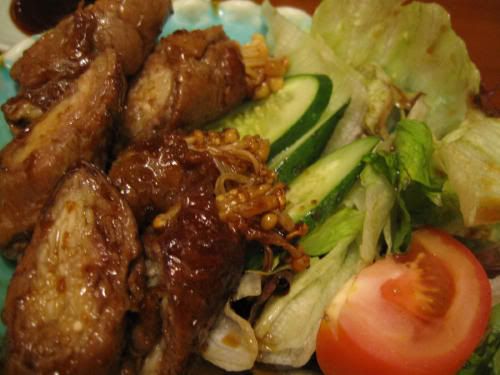 And this is beef slices stuffed with enoki mushrooms. I don't remember what the official name of the dish was. >.< But it was scrumptious!
Anyway, I forgot to take pictures of our dessert after that because being the impatient, hungry eater I am, I just went straight at it.
But their macha ice-cream is really good and we had strawberries filled with cream which was insanely delectable.
Anyway, there's a picture of the 3 of us. Coincidentally, we were wearing the same colour scheme that day (green, yellow, white). Ah, great minds think alike!
I've just realized I'm really quite bad at introducing food to you guys because I keep forgetting to take pictures of the food! Gah, I guess I'm just too much of a glutton and attack the food once it arrives. Meh.
PS: Do make a reservation for Rakuzen if you ever plan on going coz it's usally jam packed with people. =)
By the way, know any other good Japanese restaurants? Do recommend them to me.