Just some random bits and pieces of my last few weeks in KL before I jetted over here. All of it seems to have happened such a long time ago. As if it was another lifetime, distant. In reality, it's only been a few months/weeks.



First up, a Gastronomic Adventure I didn't have time to blog about before I left.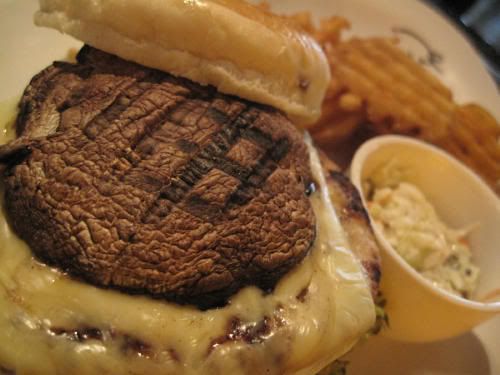 It was a cousinly outing with Greg and Reena and we decided upon having WIP @ BSC for lunch. WIP used to stand for Work In Progress when the retaurant as under renovations, which was my first time there with my colleagues from Mindshare at the time. Now that the reno-s have finished, it stands for something else entirely which... I CANNOT REMEMBER WHAT IT IS NOW! Forgetful... sigh. This is why I need to blog fairly soon after..otherwise it just escapes me!


Anyway, I don't remember what we ordered anymore, the exact names and such so you guys can just enjoy the pictures. I'm pretty sure we ordered another Salmon pizza as well, but I don't have a picture of it which leads to believe that being the glutton I am, I forgot all about taking pictures halfway through the meal and just went for it. Whoops!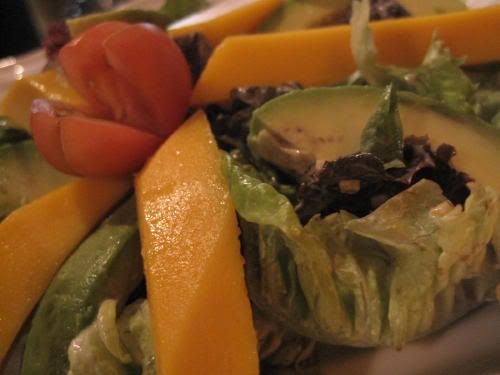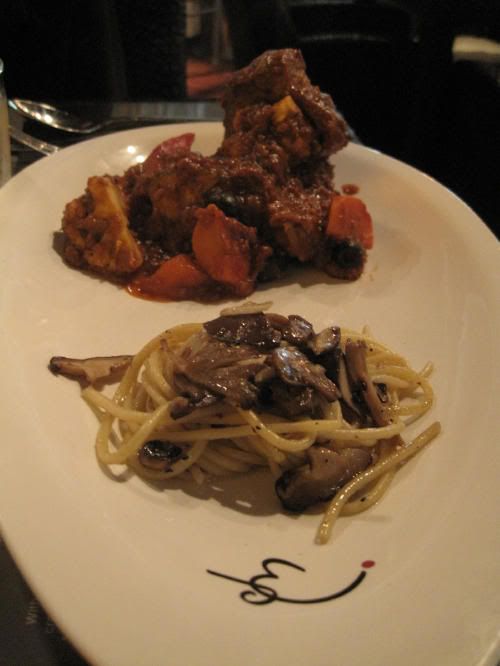 WIP is on the expensive side for restaurants (but really, what restaurant in BSC isn't?), but of course the atmosphere is really nice. Especially at night coz they have fairy lights all around the trees! I am a sucker for fairy lights. When I go back to Malaysia I intend to bring my flower fairy lights over to drape it around my bedpost. I couldn't do it since I've moved coz my new bed back home didn't allow it. Fairy lights make me happppyyy. As do disco balls. I'm still contemplating getting one, but I don't know where I want to hang it.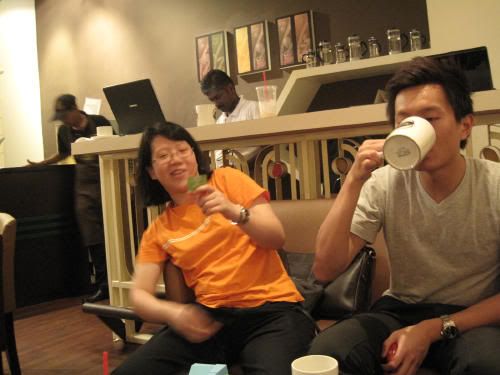 Moving on. That was one of those awesome days. After lunch we went to Austin Chase in Gardens for coffee and TABOO! Taboo is so fun larh. Everytime I play it with friends, we can play for hours and hours till the cards run out and not get sick or tired of it. But that was a fun afternoon, I remember laughing till my cheeks hurt. And that is always a good sign. I think we adjourned for a movie after that but I don't remember what movie anymore. Probably because the movie was not the focal point of that day for me, but rather the company and laughter.
Oh and Austin Chase serves pretty decent Chai lattes. Me and my sis frequent Austin Chase coz it usually has less people than Starbucks and Coffee Bean (which are especially crazy on the weekends). So we can chill there and play all the games they have there as well like Uno, Taboo, Monopoly etc. It's a very cool hangout place with less people around. Oh and they serve like 3 flavours of Baskin Robbins ice-cream too. So when Baskins is crazily packed, we go there for our fix as well. Strawberry cheesecake, anyone? Don't say I didn't share with you guys and enjoy it while it lasts people, I'm pretty sure once everyone discovers Austin Chase it will be jammed packed like sardines.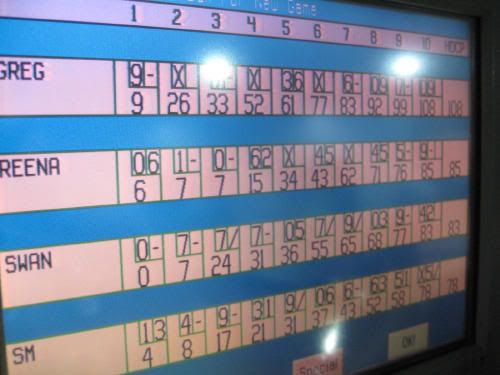 Another fun outing with the cousin was bowling. I personally haven't bowled in years! Like since Form 3 or something. Rusty, very rusty. I think we were all rusty. But in Greg's case, his Wii Bowling came in handy! Lol. XD
I did glow in the dark bowling with Mel and gang in Genting again shortly after that. And the scores were much better. But that was probably also because Mel's dad was coaching all of us. Thank you uncle!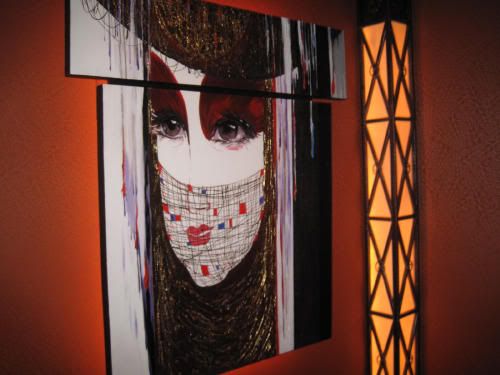 I think I took this in Luna Bar. Was there for Ladies Night one of the weeks. Their free drinks for ladies sucked. I think I chose vodka and cranberry but it was pretty tasteless with the cranberry overpowering the vodka. Meh. I digress.
I took this picture because I really liked it. I thought the detail of the eyes was great.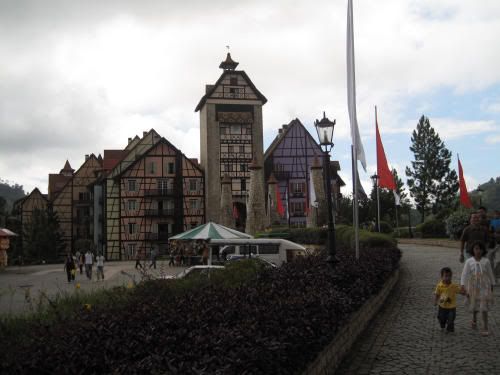 I went up to Bukit Tinggi during one of the weekends. The last time I went to Bukit Tinggi was when I was still in primary school and since my mom wanted to bring an overseas friend of her there and asked me to tag along, I did. I must say it was quite a dissapointment. First of all, I don't remember the walls being purple or yellow or orange. I thought they were white?! Besides it's modelled after a real French village, and I highly doubt a French village would have their walls painted all kinds of funny colours. So not chic.
And as with everything in Malaysia, maintenance, maintenance, maintenance. We have the awesomest of things and they're all fine and dandy when they're new. But after a few years, everything just looks like shit. It's like we can never follow up and keep everything in tip top condition. Such a waste. As always.




This is Mel - showing us her diary that she totally forgot she wrote back in 2005?
It was a blast from the past indeed. All the crushes we went through. Growing pains. I'm pretty sure everyone went though that phase. I know I did. And I would probably NEVER let anyone read what I wrote during that time. Except for Wee. Coz we used to exchange diaries every week anyway. I think it takes real courage you know? To let other people read the things that were closest to your heart at the time. The innermost workings of your brain. And the words said from the heart during that period. To let people judge the person that you were and compare it to the person you are now. I don't think I'm brave enough.
I know I seemed amused, Mel. But I admire you for doing that. And trust me, your taste in boys has improved greatly! Lol. =D Faster get a hot Aussie bf woman!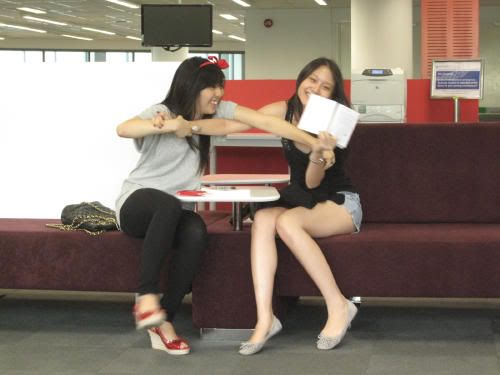 And this my friends, is a typical Mel and Ka-Yee fight. They fight ALL THE TIME. And I somehow usually get caught in the middle and get soup dumped on me. =(
Having said that, they provide live entertainment and are very amusing.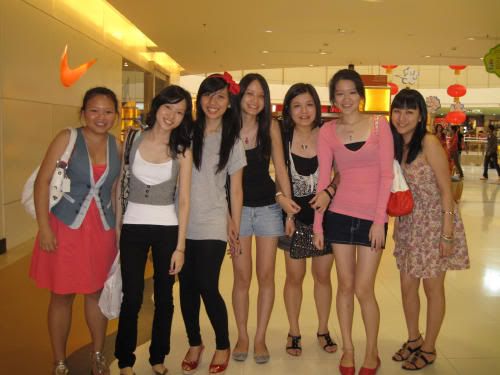 I've probably said this a MILLION times already, but I miss my girls!!
This was our big farewell outing before everyone scattered off again.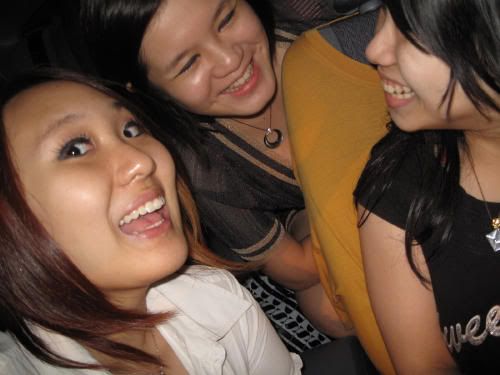 How Many Bear Bear Jumped Across The Wall?
None.
I FINALLY got it after playing it for a gazillion times with them. And the stupid thing is, I've actually played it before with the college guys and I distinctly remember Teik Chi telling me the secret to the answer but I couldn't for life recall what it was.
I figured it out in the end, after I stopped trying to remember. Just goes to show, some things you have to figure it out yourself for you to remember them!
I still do not wholly get the Bang! Who Died one though. Play with me when I get back again to see if my theory is right k?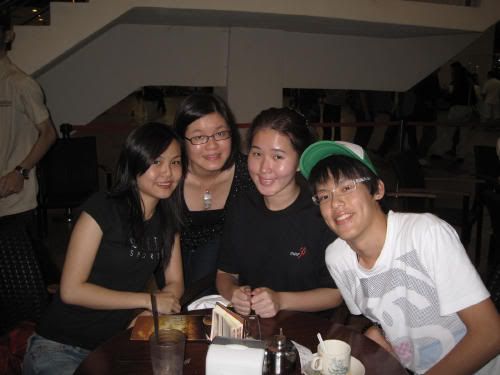 And my pleasant surprise the night I left. You know my family really thought you guys were coincidentally sending someone else off instead and so happen I was just going off as well. It was quite funny really. But yes, when you guys turned around it took me quite a few moments to process that you were actually THERE before I became super touched.
Thank you for coming all the way just to see me off!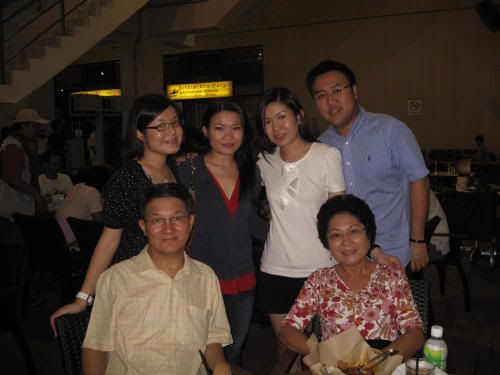 Aaaand that's it. That night was just a whirlwind of activity. Everything just happened so fast! One minute I was still at home in the morning gobbling down CNY goodies and throwing stuff into my luggage bag and the next, I was checking in at the airport already. Everything was just a blur. I remember boarding the plane feeling quite numb actually. I wasn't excited. I wasn't sad. I wasn't happy. I wasn't anything. It was just matter-of-fact. Was probably operating on auto-pilot.
Anyway, we bought tickets to go see Russell Peters LIVE in May! I am super excited! Russell Be-A-Man Peters in the flesh. Woot woot!

In the meantime, recommend me some good songs to listen to please? I think I'm getting bored of my playlist.