Currently listening to- Painting by Chagall by The Weepies


We had a joint celebration/ shopping outing for Kit Mun and Ka-Yee's birthdays who are just a day apart a few weeks ago.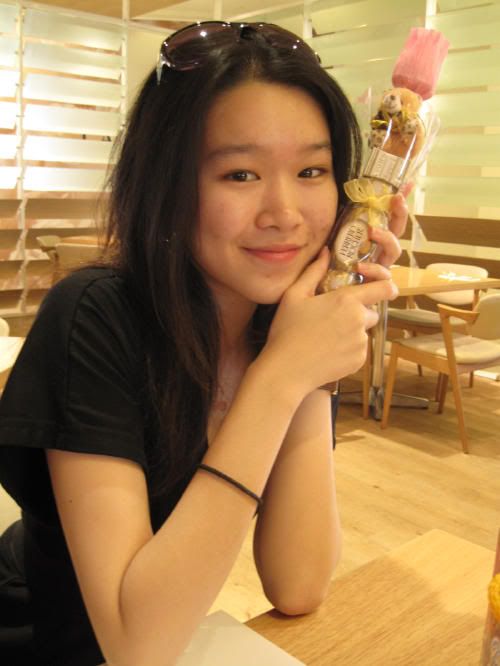 This is Kit Mun looking all supermodel-ey with her oversized sunnies holding part of Ka-Yee's pressie.
Finally, Ka-Yee arrives to claim her birthday pressie.
Woman, I'm so glad you managed to make it that day. We hardly ever get to see you man! :(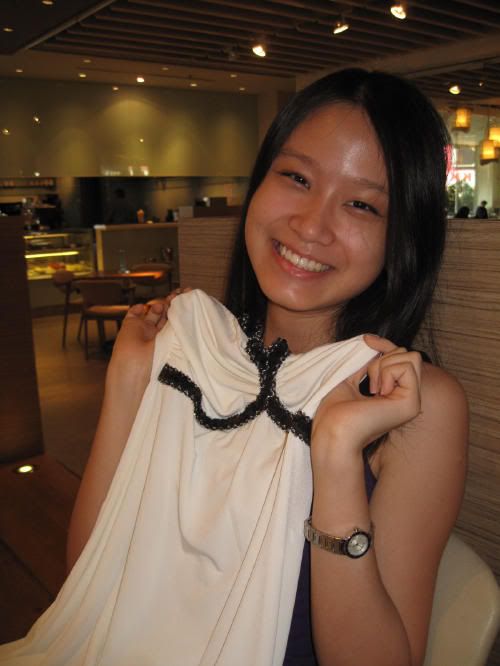 And it seems like she likes her gift! :D

Operation Get Ka-Yee To Wear More Dresses is sucessful!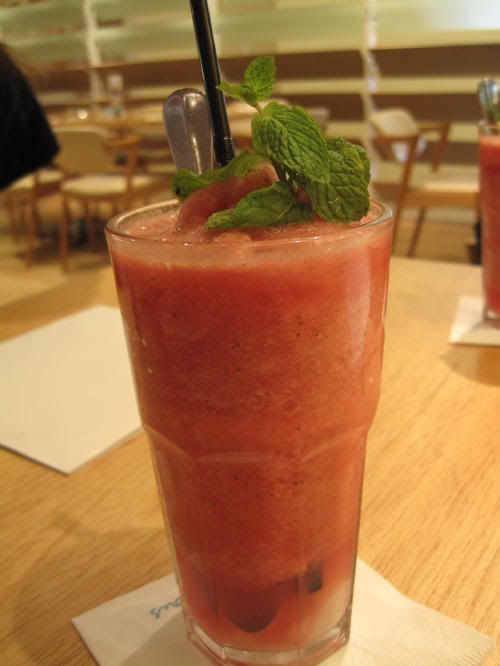 I also realized that I have not introduced Delicious under Gastronomic Adventures yet which is travesty since that's one of my favourite food joints.


Anyway, this is my all time favourite Watermelon and Lychee Blast. I almost always order this when I am there. It's usually that or their Frosty Lemon Tea.
Both drinks are very refreshing and are best served on a super scorchingly hot day!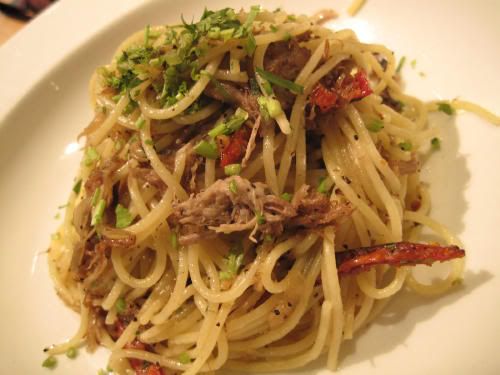 This is another one of my favourites - Duck Confit Spaghettini

It tastes a bit like aglio oglio, only more yummylicious! The sun dried tomatoes add that extra flavour and the duck is always marinated to perfection.


Lately, my sisters and I have also been addicted to their Pesto, which is also extremely scrumptious. Another must try though we didn't order it that day.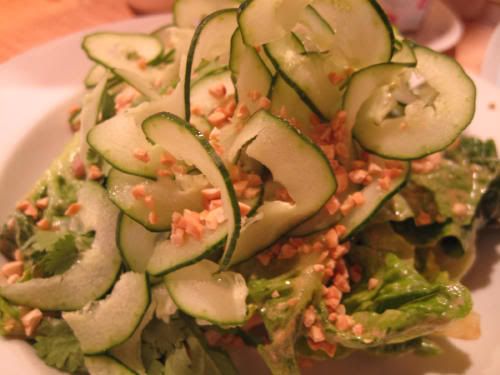 Vietnamese Chicken Salad
This was Ka-Yee's choice and it turned out better than expected I must say! (coz I usually order their Caesar which is pretty standard)
It is however, a dish for peanut lovers only since the dressing is peanut sauce. (I'm a peanut sauce lover as you can see)
Ann didn't like it coz she doesn't like peanuts. :(
Loved the presentation though. The thinly sliced zucchinis are so cute!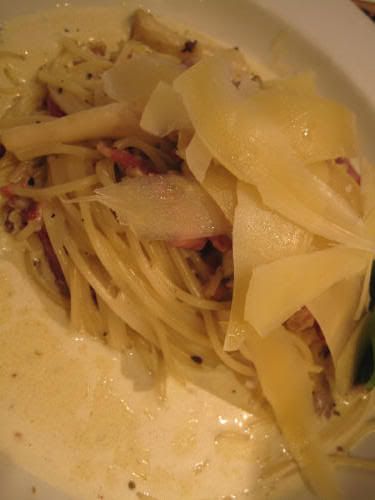 Mun's favourite - Spaghetti Carbonara
A pretty standard dish I would say. Their sauce is rich and creamy (as the best carbonaras
should
be even though the original ones aren't creamy at all =.=), making this dish super filling. I advise sharing for this one if you want to avoid filling
jelak
!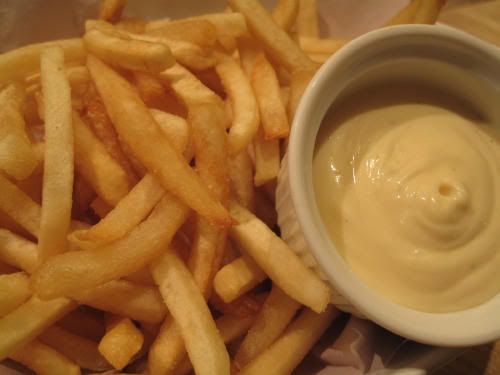 In my opinion, this is the best dish is Delicious - Shoestring fries with Aeoli
It sounds deceptively simple but it tastes superb! I'm sure you're probably going: "You go ALL the way to Delicious to eat fries?!"
But trust me on this one. Delicious makes the best shoestring fries ever! They are usually crispy at all the right places and coupled with their to-die-for aeoli, I'm in carbohydrate heaven. :D
And the best news is, their amazing aeoli is now for sale at Delicious Ingredients at only RM10! We already have to two little pots sitting in our fridge. Hehe. And aeoli has replaced chilli sauce at the dinner table. Fattening, but in my sister's words: you only live once and we're ALL going to die anyway! Lol XD

Good food, good company and good ambience. What else can you ask for?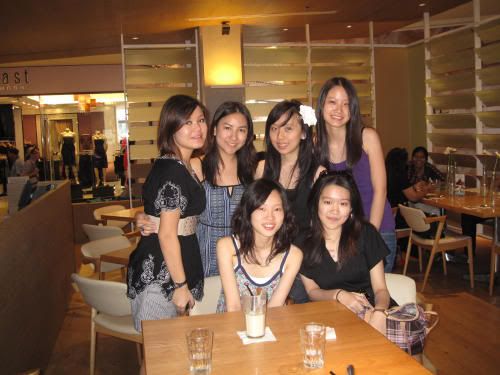 All the Ssaps minus Ieka. :(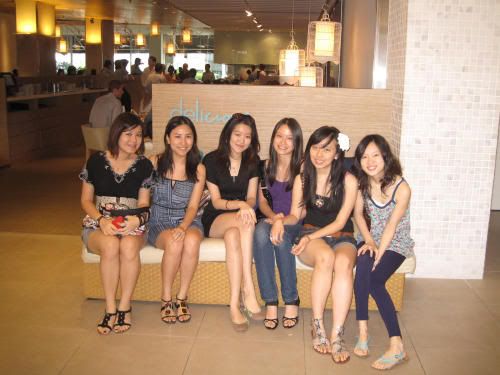 One more before we hit Telawi for some retail therapy!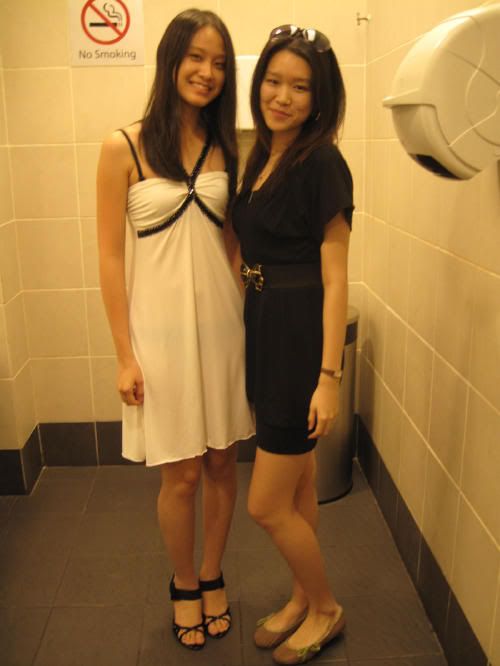 Oh, we made Ka-Yee try her dress first though, just to make sure it fit properly.
Doesn't she look stunningly gorgeous in it? ;)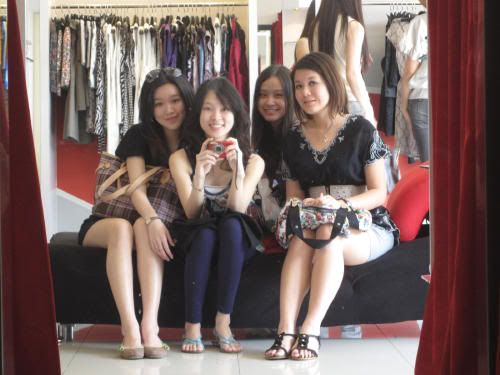 My college ssaps are the awesomest bunch ever. I love you guys!
Moving on girls, bazaar this weekend on? :P