And so, a new year begins...
2009 was a pretty awesome year for me. My first year at Monash could not have gone any better I think. I feel so sad at the thought of leaving it next, I mean
this
year.
This year
.
THIS year.
It's finally here. There are times when I think of this coming year, and all the uncertainties that lie ahead and I feel a creeping hollow sensation in my gut.
Then there are other times, when I think of this year - 2010, and all the changes it will bring and that stream of excitement bubbles into a fountain inside my heart.
I have not made any New Year's Resolutions these past few years. I think I don't believe in them anymore. Why should it take a new year for people to change? If you were really serious about it, change can start at anytime, anywhere.
The last new year's resolution I made was a few years back, after a crazy shopping spree in Aussieland (Boxing Day salesssss!), I vowed not to buy any clothes for the next 3 months. And I lasted for 5. I was very proud of myself. ;)
Anyway, here's to a fun-filled 2010 brimming with love, joy, laughter, occasional tears, rewarding experiences and enriching journeys.
Bring on that first year in Aussieland! :D

******************************
The last few weeks of 2009 were awesome. I hope I always feel this contented and happy.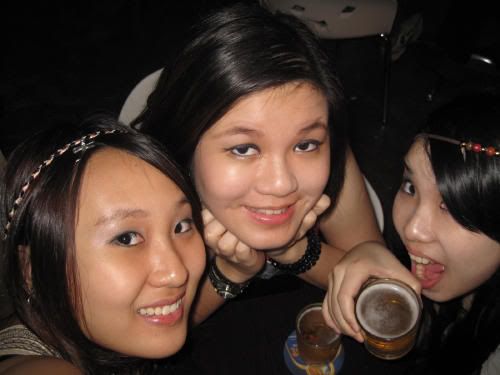 Many thanks to Huey Li for inviting us to Elysium's club opening.
They played good music and we had fun!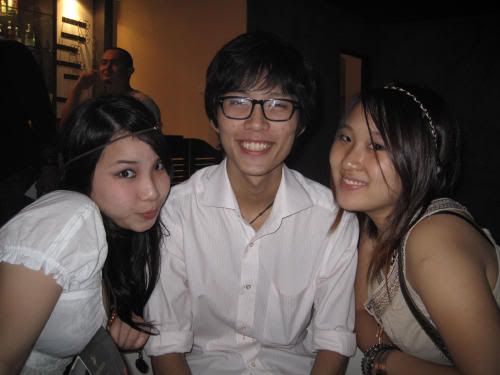 With our driver for the night. Thank you Max!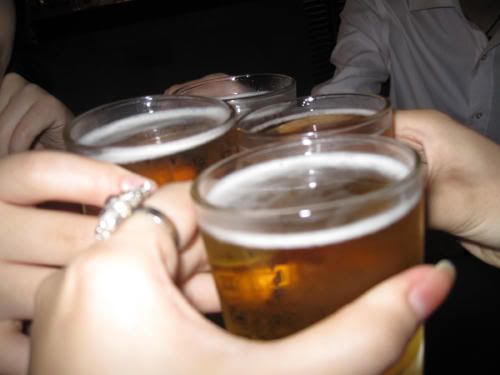 Free flow of beer. ;)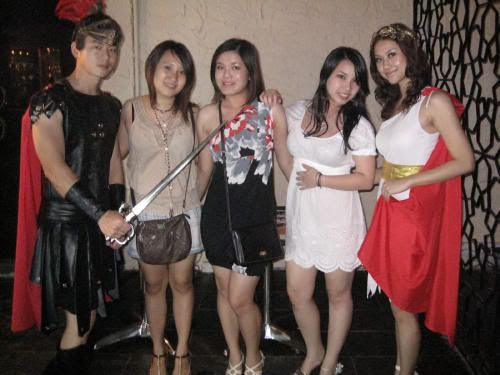 Theme of the night was supposed to be Grecian. I think all of us looked a little too funky to be considered really grecian but hey, we tried!
And I find the concept of Asian gladiators very amusing. :P
On to Maison after that!
While I was on my way to Sr2ScA gathering, the sun was setting and it was so beautiful. The palette of colours that melded together in the sky just took my breath away! Unfortunately, I didn't have much time to snap a picture since I was supposed to be following Adele's car as I didn't know the way to Plaza Pantai. As a result of this picture, I nearly lost sight of Dele's car since two other cars cut in front of me. =/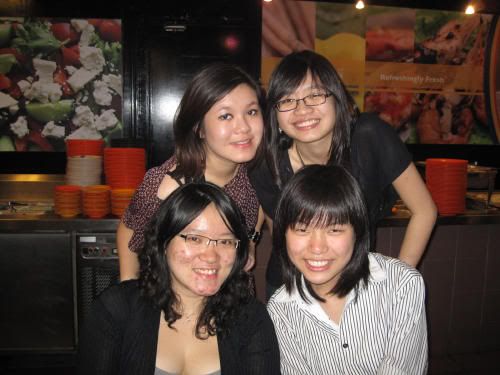 It was great seeing everyone again. It's been nearly a year since I last saw everyone? Wayyy to long.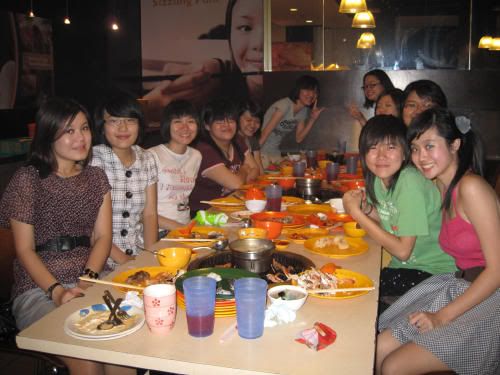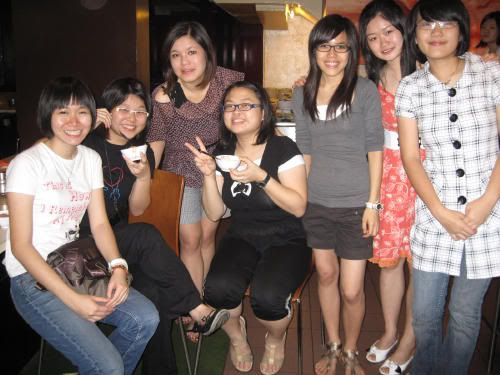 This picture was epic. They were all still talking and laughing when I wanted to take the picture but as soon as Ying counted to "3" everyone turned to look at the camera and smile! Always camera ready indeed. :P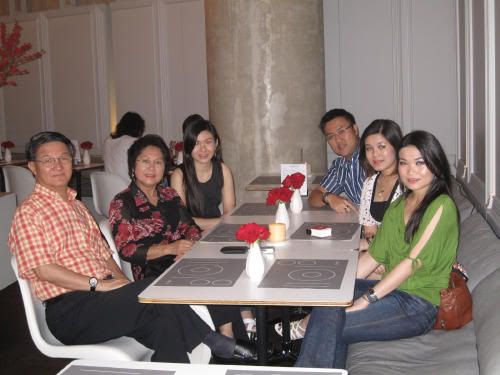 Christmas Eve dinner at Alexis, Gardens!
That's two years in a row we've been dining there at Christmas Eve. What can I say? They have good food.
This was one of our starters- Scallops and peas!
The scallops were huge, succulent and juicy making it ultra yummylicious!

I totally forgot to take a picture of the other main courses (I told you I'm an epic failure as a food blogger) but I'm pretty sure they included Roast Turkey (which had good stuffing) and Alexis' famed Sarawak laksa.
Christmas Day dinner was spent with the cousins at Unique Seafood before we adjourned to Bar TwentyOne at Bangsar Shopping Center to count down to Min's birthday.
Oh, and Greg is back from Melbourne! :D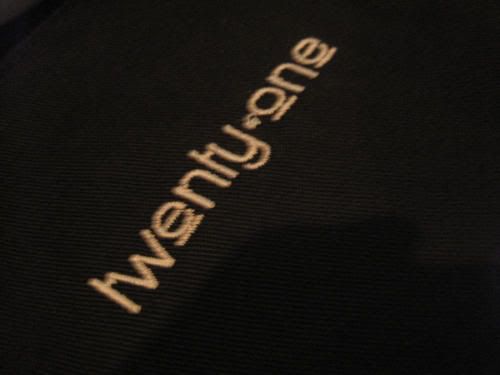 The sisters!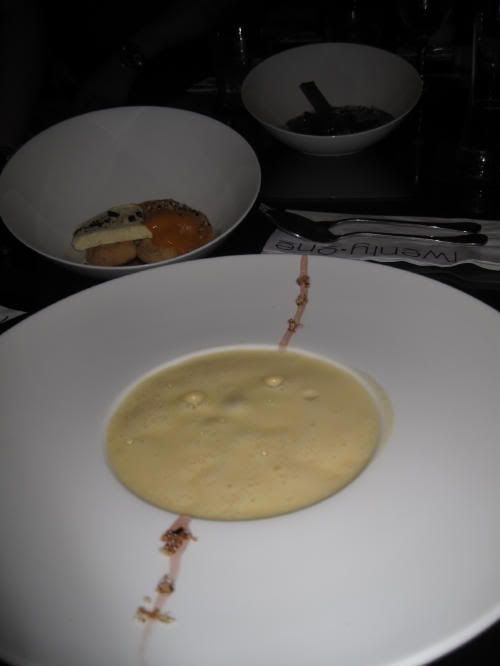 Our dessert! Christmas pudding, bananna mango mousse and some melted chocolate thingy that sent me to chocolatey heaven!
The bowls they use are super cute too.




Happy clappy times!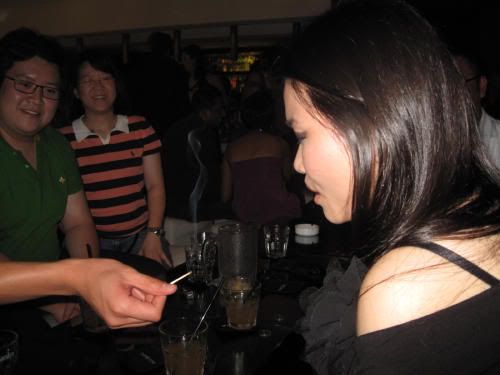 When the clock struck 12, we sang the birthday song and attempted to let Minny blow out the match. It took quite a few attempts, but we managed in the end!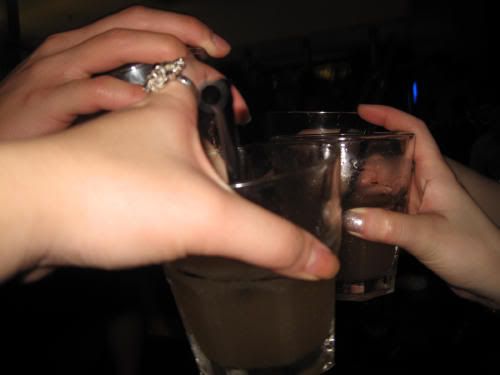 Toasting! Their Long Island Tea is super lethal coz it tastes like lemonade but actually has a lot of alcohol in it. My sister and I both K.O-ed when we reached home after that. But that might also be a result of the combination of super lethal long island tea in addition to all the other drinks we had earlier. =/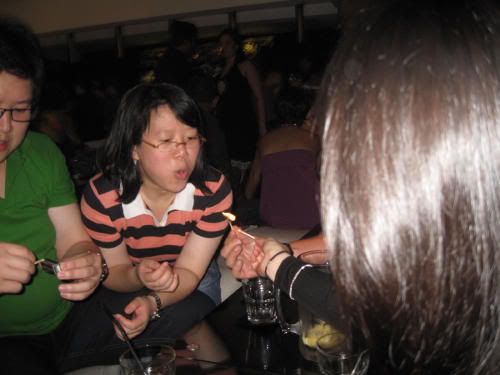 Reena's turn at blowing out the match since her birthday was only 3 days away!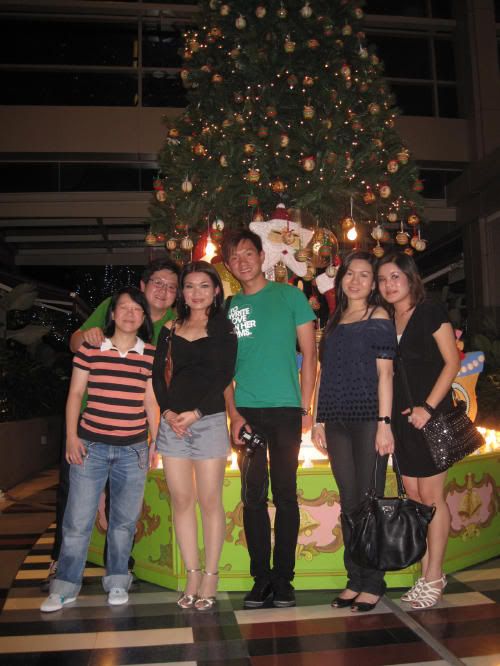 With the revolving Christmas tree.
In Greg's words: This is what Santa would look like if he were a Chinese Starfish. Complete with the sepet eyes somemore!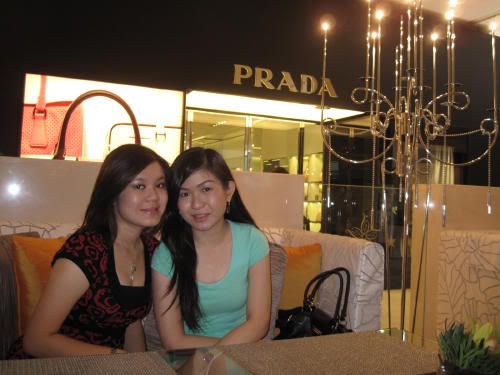 Boxing Day or rather Min's birthday was spent in Pavilion looking for er... my belated birthday present. =S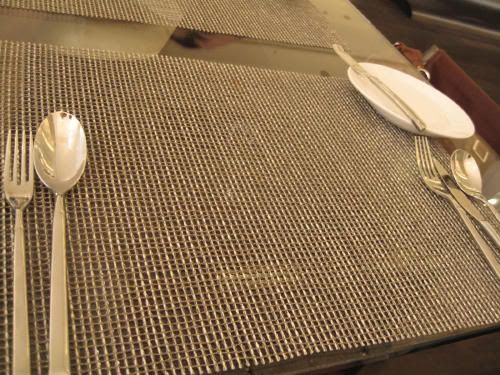 We had a gastronomic adventure at Cafe Stelle run by Raffles.
Their placemats are cool but very sharp. You can't lean your hands on it otherwise you'll get imprints.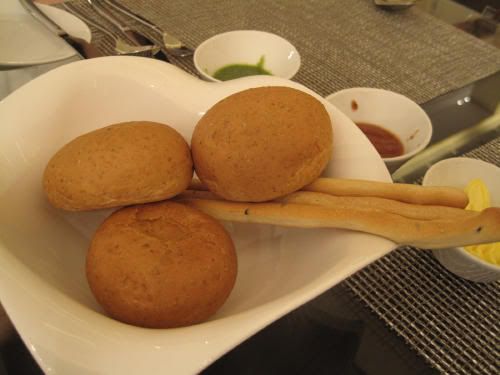 Bread served with yummlicious sides - butter, salsa sauce and pesto.

My sister's latte came with these little sticks of brown and white sugar. So adorable!
The sausages were really good. I don't know how to explain it but the meat tasted really er... fresh? Not the processed meat flavour that lousy sausages sometimes possess.
Plus, the mash was super smooth too!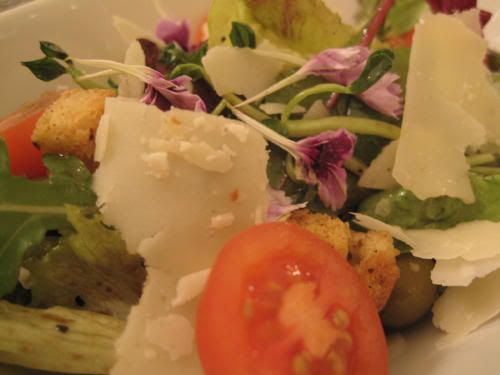 The salad that came with my sister's Healthy Set (includes dessert, coffee/tea and a main course)
I thought it was so-so. Nothing to shout about.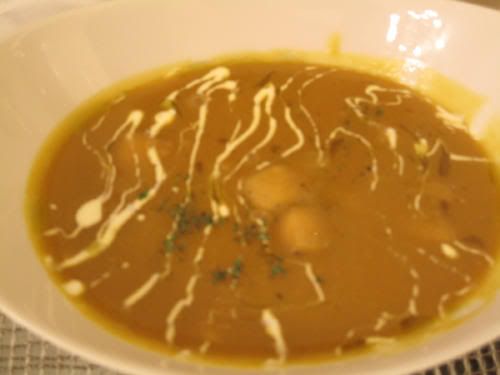 Butternut Squash Soup that was superb! Just the right amount of flavour and creamy-ness.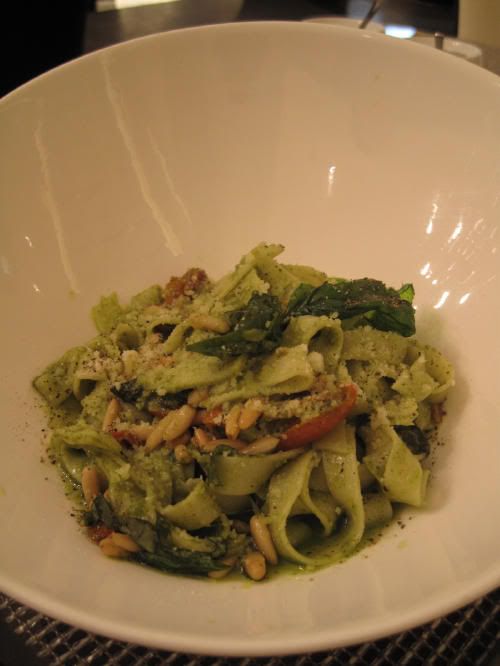 Pesto Linguine. This dish was absolutely delightful coz it the pesto flavour really came through.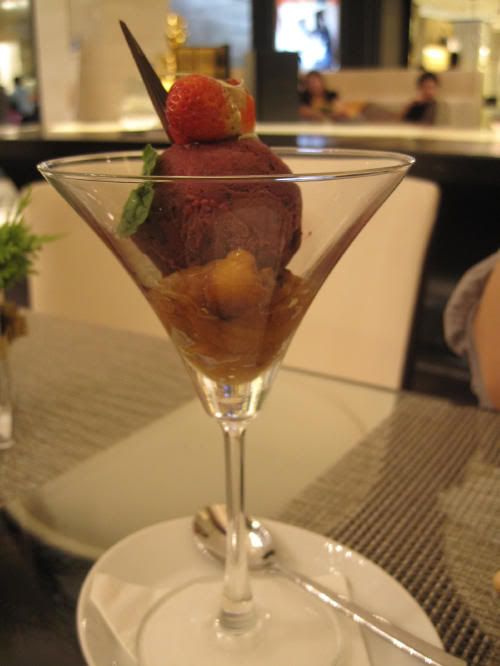 Raspberry sorbet with peaches.
Typical kind of dessert.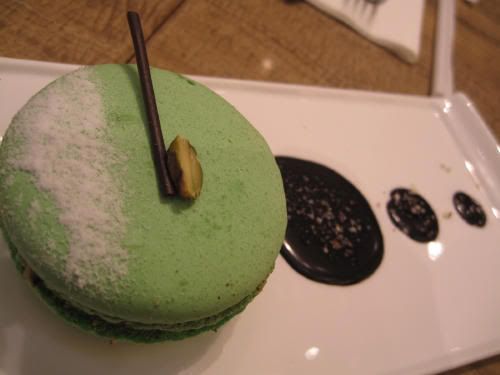 After we settled my birthday pressie, we had Godiva for tea!
Pistacchio macaroon with a layer of Godiva choclate in the middle is heaven! My sisters and I are a wee bit obsessed with macaroons lately. Blame Delicious Ingredients for that!
Macaroon being washed down by our super yummylicious chocolate drinks- Dark Chocolate Decadence and Chocolate Raspberry.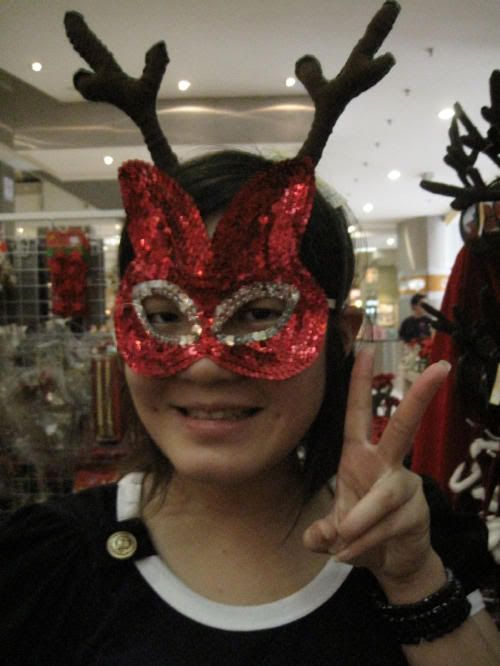 That's all for now folks! I leave thee with a picture of me wearing all the funky headgear courtesy of my sister. Happy New Year once again and since Christmas last for 12 days, Merry Christmas too!