Oh dear, I SO should not do Gastronomic Adventure posts when I'm hungry! Sigh... now all I can think about is food, food and moreeeee yummylicious food.
Anyway, I'm sure some of you have noticed the gradual disappearance of the restaurant known as Mr.Ho's Fine Food. My family used to frequent the one in Mid Valley for all things pork, which has since been taken over by Caring Pharmacy.
Apparently, Mr. Ho is quite the gambler and as gamblers usually do, gambled away his entire fortune, including his restaurants. However, the former Mr.Ho's at Plaza Damas managed to change hands and is now called The Meat Experts (TME) with the exact same menu and staff as Mr.Ho's (or so the manager claims).
We've since tried it out twice during the weekends and I can safely say that the food is pretty much the same. Except for the sausages which tasted slightly odd. Everything else was the same as before, so now you know where to go when if you've missed Mr.Ho's porky goodness!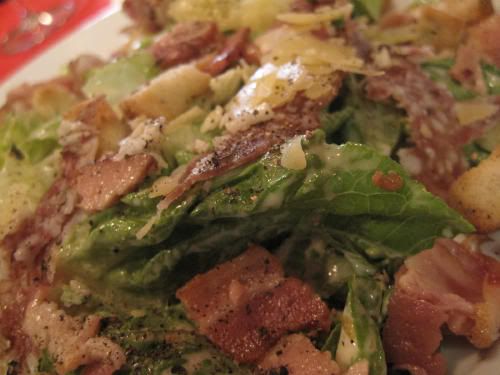 Caesar salad with salami and pork! Dressing was fabulous!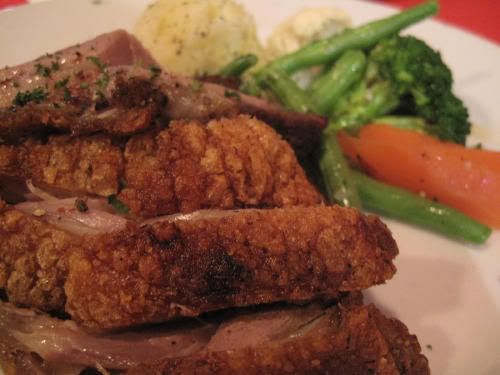 Pork knuckle - my parents favourite! The skin is really crunchy and their mash is awesome too!
Spaghetti Carbonara! While the dish was creamy and sinful and good, my sisters and I still prefer their Signature Asian Pesto because they use coriander instead of basil making it super yummylicious and flavourful!
My favourite dish other than their Asian Pesto is this - TME pork ribs!
The meat is really tender and nice and the tangy sauce adds so much flavour. Thinking about it makes my stomache growl... =(
Om nom nom....
My sister thought I looked "cute" eating and decided to be trigger happy. I'm glad I amuse you jie. =.=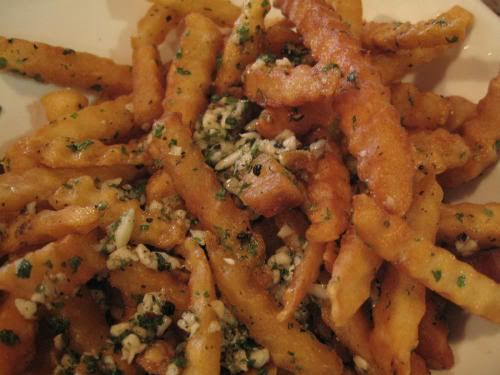 Garlic fries! <3
I'm a pretty big fan of garlic so I loved this snack since it had oodles of finely chopped garlic in it.
Don't order it if you're on a date I guess... unless the both of you are planning to eat it/loves garlic.
I think I need to go and snack on something now. Toodles!