Currently listening to - Daughtry's cover of Pokerface
We talk about tolerance, about
muhibah
, about living in peace and harmony.
We talk about love, forgiveness and the
freedom of religion
.
But that's just it, isn't it? It's all talk.
The
actions
of the ruling party are singing a much different tune.
I consider myself to be patriotic - I love my country, my home. I really do.
But as someone so eloquently put it, being patriotic doesn't mean agreeing with everything the ruling party does.
But lets leave it at that for the moment.
****************************************
My sister brought me for my very first No Black Tie sometime during the end of last year. Her friend Reza was playing and she wanted to go and support his act so I tagged along.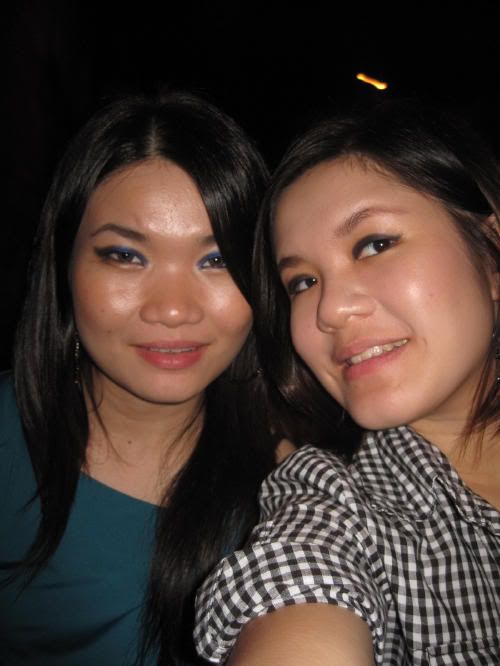 There was a cover charge but I've totally forgotten how much it was.
We had a late dinner there and although I've heard many complaints about the food, it was actually quite okay. The agadeshi tofu was passable and the shoestring fries were pretty standard but the mentaiko pasta left much to be desired.
I guess we'll stick to snacks the next time we go back.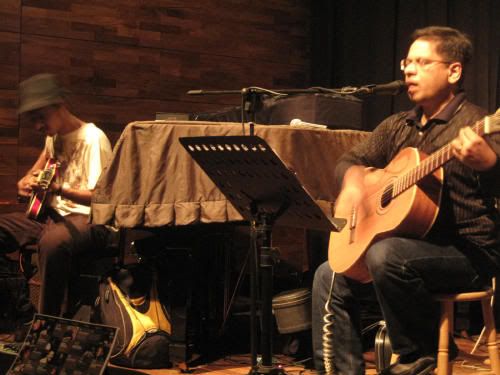 This was the other band that was playing that night other than Reza's band. I missed the band's name due to the funny little man's (the one sitting on the tiny stool) heavy Indian accent. =/
My sister and I were pretty mean because we kept quietly giggling at the funny little man. Aiyo, I swear! He shouldn't sing larh. I mean their songs are quite good and the musical arrangements are pretty awesome... it's just that the lead singer is... for lack of a better phrase - an epic failure. They really should let somebody else sing. I've a feeling that the funny little man writes the songs and he should continue writing..his topics are quite political and very relevant to Malaysia (apparently he works for a newspaper which explains it) and he can continue playing the guitar but he really should just NOT open his mouth. I know it sounds quite mean, but trust me... our quiet giggling was nothing compared to the other people in the audience. They started talking and laughing really loudly and halfway through the set, they started yelling for Reza.
I must say I quite pity the funny little man. Haih~! His song entitled ISA Blues should really be the anti-ISA theme song.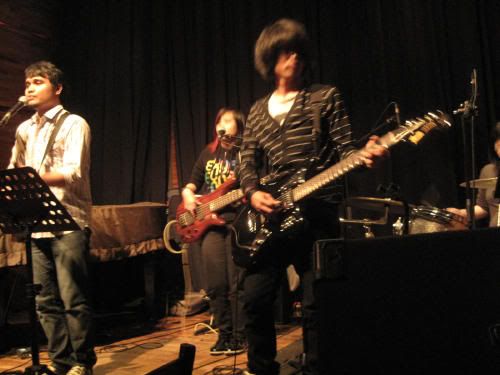 Anyway, this is Reza Salleh and his band. The guitarist is apparently from Estranged, which was why he looked so familiar (I only found out after the performance).
I'm glad that Reza started a band. His original songs which he used to play solo sounds better when accompanied with a band.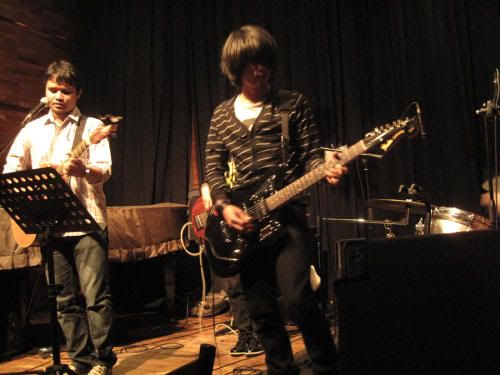 The song that really got me hooked on Reza's music all those years ago was actually For Her. I think he gave a copy of his CD to my sister when they were in college and she used to play it at home. I remember listening to it and thinking it was a cool song. I think that's the only song that I'd prefer him to play solo.
All in all, it was a pretty cool experience and I'm glad we went though I had to work the next day and the gig only ended around 12am. It started on time though which is such a rare occurance in Malaysia.
There are so many talented Malaysian artistes out there. It's great that places like No Black Tie are willing to give exposure to them. I'm so sick of hearing all the same Malaysian bands again and again as opening acts for concerts. They really should have a little more variety.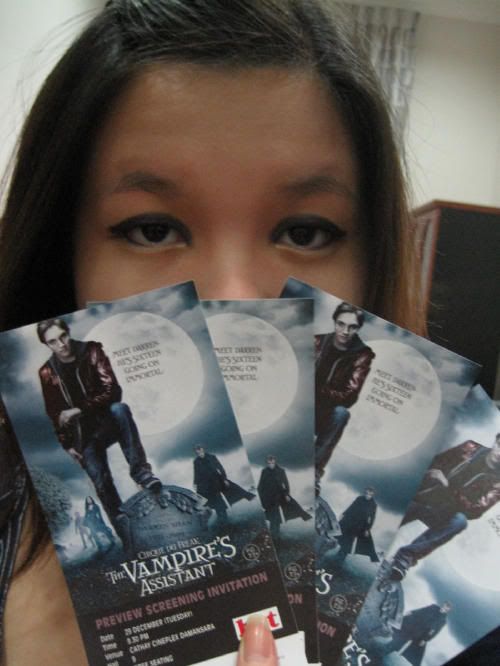 Preview passes to watch Cirque Du Freak: The Vampire's Assistant.
Ahh... the perks of working in the media industry! :D
Movie was so-so only though. I thought they could have done better in terms of the pacing of the movie. It was a leetle to slow for my liking. And more character development would have been nice.
Ah, I've just realized this post will probably be the last one regarding the events 2009!
I still can't wrap my head around the fact that it's 2010 already even though I've stopped saying "this year" when what I really meant was "last year".
Anyway, New Year's Eve was spent in Selesa thanks to Ann and Nick. ;)
It was a supremely last minute plan as it was only finalized that afternoon itself while I was at work.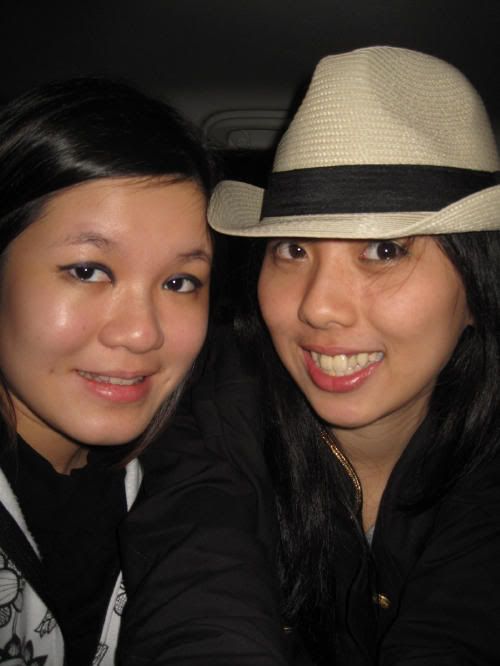 Mel and I as we were on the way up!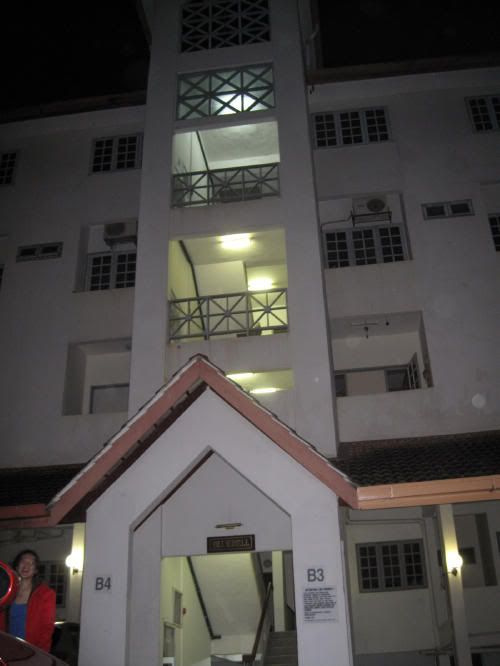 Our accommodation for the night! Thanks Nick for picking us up and letting us stay at your place!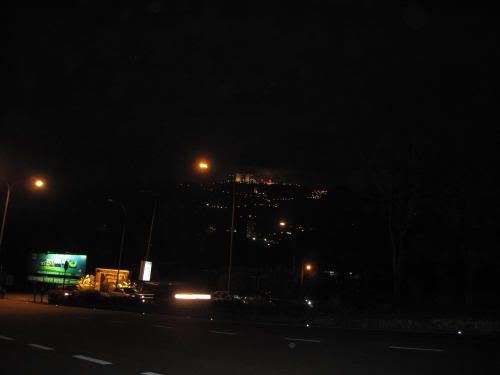 Our view of Genting. We stopped by the roadside half way up as we didn't want to go all the way up and jostle with the crowd there.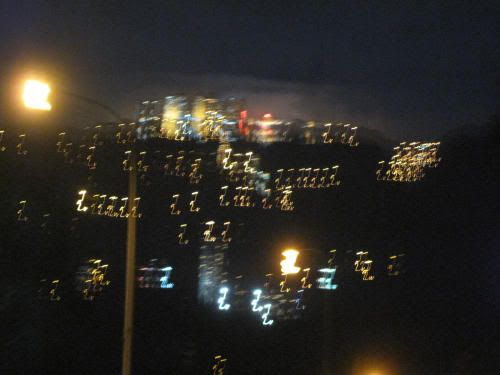 Night mode! I like how these night mode shots when all the lights transform into cute shapes due to the slow shutter speed. Yes, I know I am slightly weird.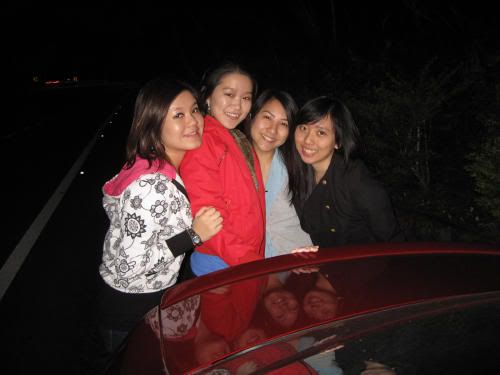 The girls. I think what I liked the most about this trip was that it was so spontaneous. I liked how the whole trip came together without too much planning or hassle. It felt like one minute I was sitting in the office and the next I was enjoying the cooling breeze in Selesa.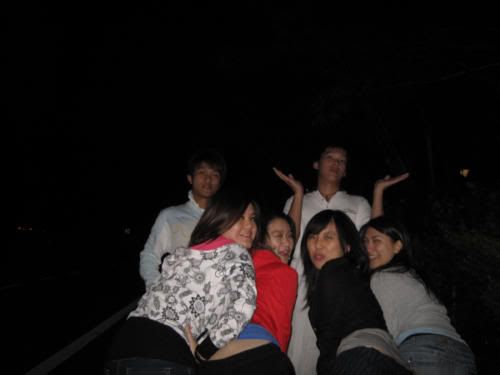 Of course, the awesome company helped make the trip epic as well!
The crazy girls doing the flasher pose and the poor guys looking like they don't quite know what to do with us. :P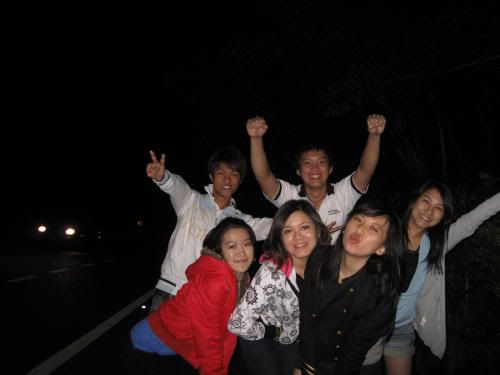 Love this self-timed group shot! I think it summarizes the whole trip - happy times!
Nick was actually carrying Ann bridal style but Mel and I blocked them. :(
Whoops!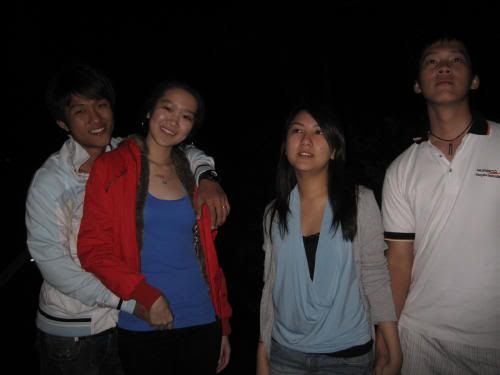 I think this might be when the fireworks started which is why lovebirds #2 were looking up into the sky! :D
A super shweet picture nonetheless. All I managed to capture of the fireworks. Lol XD Little poofs of light. The fireworks mode in my camera is CMI wan...must be super duper still then only can capture. Ah well. Typical la.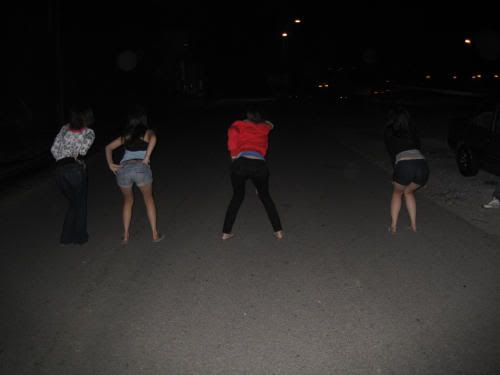 More flasher butt poses. This time we even left gaps for Ka-Yee, Joyce etc.
;)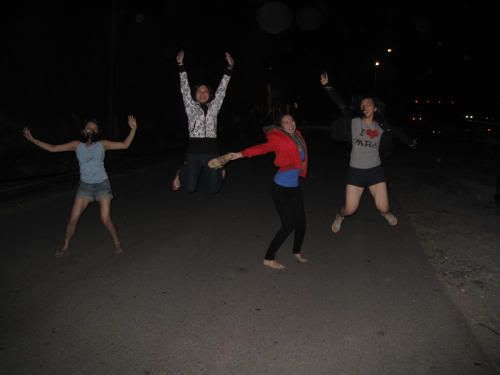 The boys super layan us coz we wanted to stop by the roadside and camwhore.
So that's how we ended up doing jump shots on the road and whenever a car came we'd all rush back to the side. Adrenaline rush! :D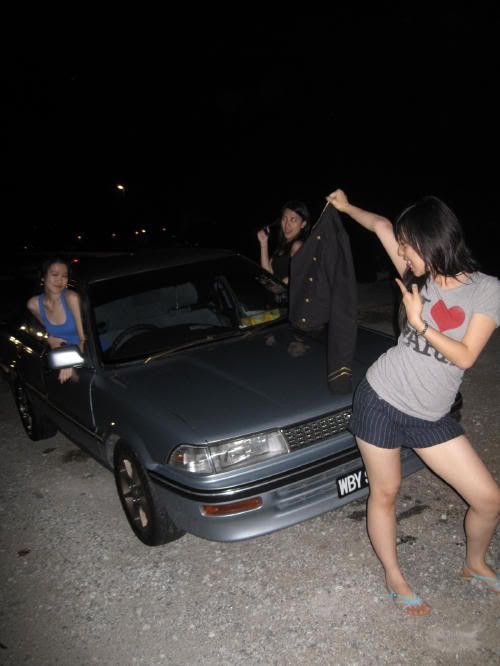 Unfortunately, the gastric that felt like it was eating away my insides kicked into full force by this time and I didn't feel much like camwhoring anymore. So I settled for being photographer instead!
The other girls went crazy though! I like this picture the best because it's so funny! Especially Mel! It's like she's trying to bait Mun and Ann with her military jacket but they don't wanna layan and want to take pictures instead!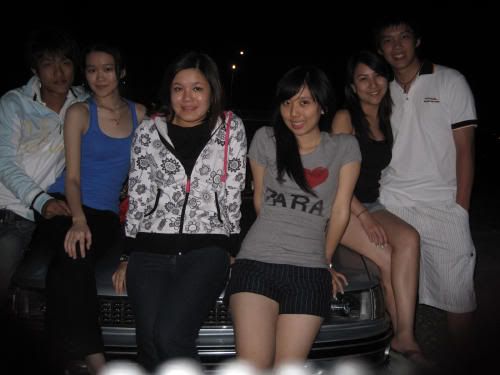 More self-timed group shots! <3
All the epic poses. :D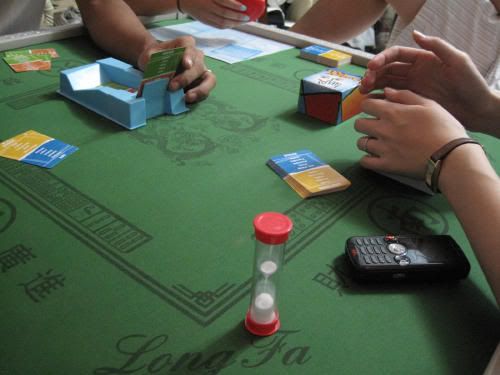 After that, we headed back to Selesa and played Taboo!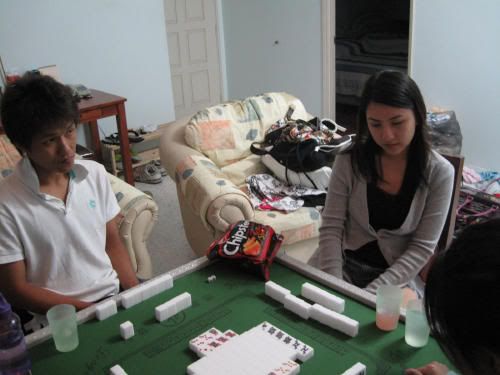 And Gin Rummy as well.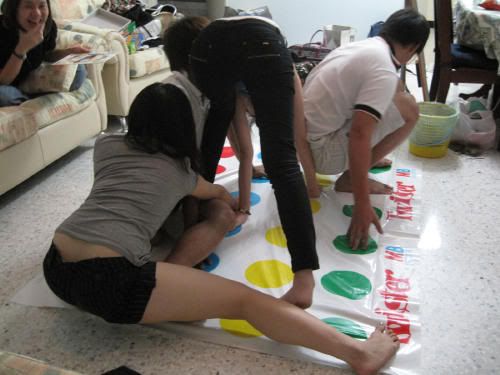 Next, we moved on with Twister. It was so amusing seeing them figure out how to position themselves! That's probably why I was laughing so hard in the corner there. ;D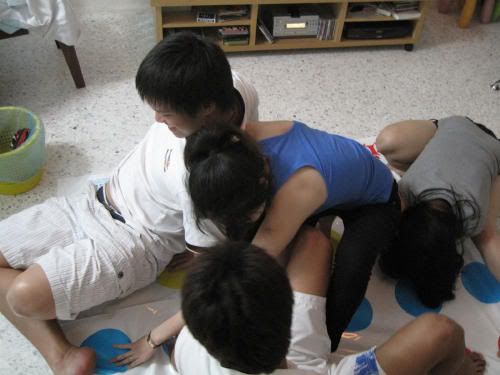 Totally twisted. Literally.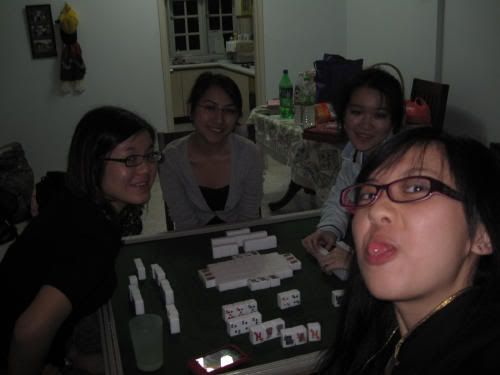 The boys went to sleep after a few gruelling rounds of Twister while the girls decided to indulge in an aunty pastime and played more Gin Rummy!
This is Aunty #1 who looks more like a lady boss!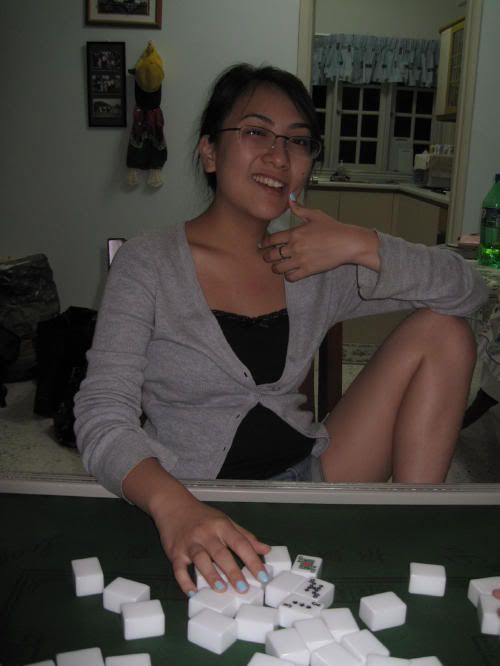 Aunty #2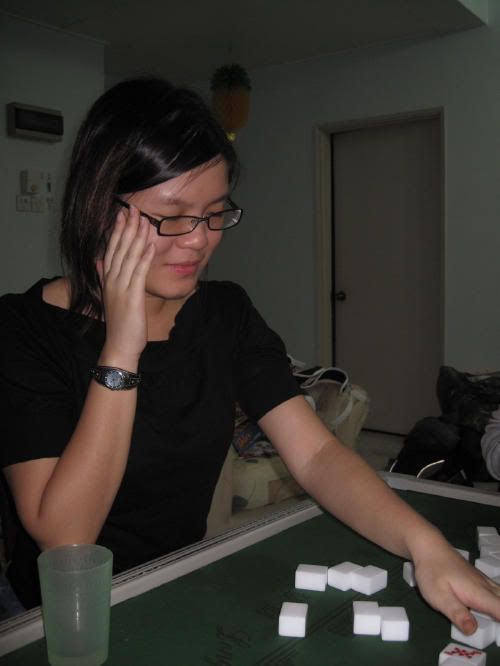 Aunty #3
Kc said this would look more real if I had Chinese Tea in the cup instead of Vodka + Sprite. =.=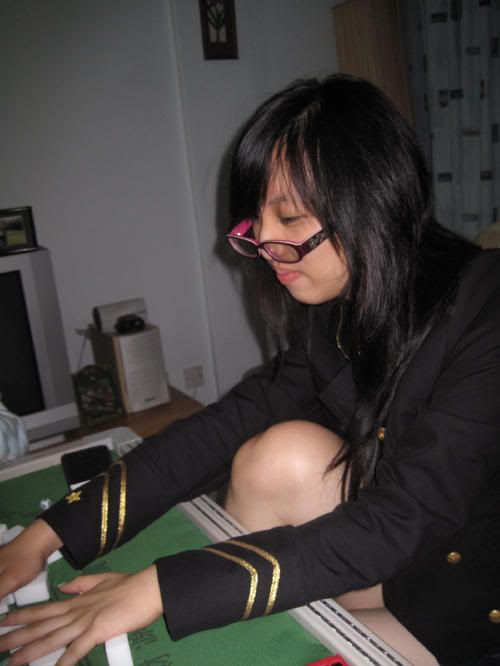 Aunty #4 who Ann calls a zombie grandma! lol XD
All in all, it was a rocking start to 2010. Let's hope that it's an indication of how the rest of the year is gonna be.