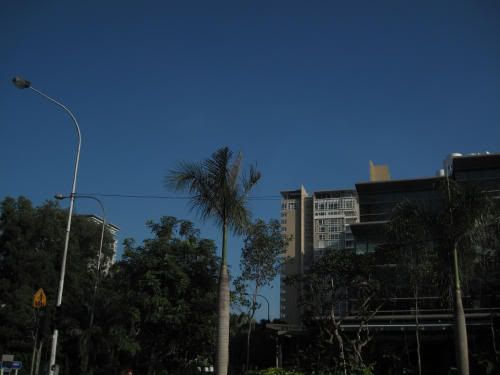 I remember one morning getting up at dawn; There was such a sense of possibility. You know that feeling? And i remember thinking to myself, "So, this is the beginning of happiness. This is where it starts." And of course there will always be more. It never occurred to me it wasn't the beginning. It was happiness. It was the moment. Right then.
And that day was one of those days. It started out like any other. But as I was on my way to work, I stopped at the traffic light in front of BSC and just glanced up. It struck me how very beautiful the sky was - clear, blue, without any clouds whatsoever hovering above. Don't get me wrong, I'd gladly spend a day lying down, staring at the sky and making shapes out of the cotton candy clouds. But there are days, like that one, when I love how the vast sky is cloudless. Neverending.
And I felt it. That sense of possibility. Instantly, I knew that it was going to be a good day. Isn't it wonderful how simple moments like these can totally transform a mundane, ordinary day into something special? It's moments like these that I truly am glad I'm alive. I'm living, not existing.
Here's hoping everyday will be as awesome for all of you guys too! :D